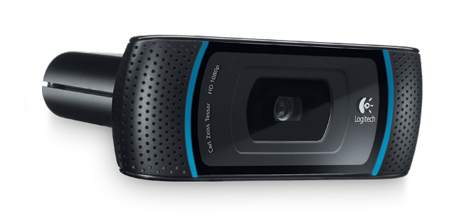 At the tail end of 2010 I picked up a webcam for use in daily video conferencing via skype. It would most likely have been sensible to plump for a cheap and cheerful option but somehow, as with all my buying decisions, I get like a kid in a sweet shop and can't resist the big shiny option.
So, after some digging around and reading I plumped for the newly released Logitech HD Pro Webcam C910. A mouthful I think you'll agree – so I'll just call it the C910 from now on.
So why this buying decision? Well, I liked the top notch specs of this little camera. It's got Carl Zeiss® optics, offers up full HD video recording, 10MP camera stills and has the capability to conference in 720P as well (although it requires a hefty internet connection to use this feature in reality.)
The head unit is long and oblong – about 3.5″ x 1.5″ – and has a flexible monitor support attached. I had no problem using the support to attach the cam to my 24″ Dell Flatscreen or my MacBook Pro Laptop. Obviously, being a fairly sizeable camera and the nature of a portable laptop, you'll be wanting to have the laptop on a desk to make sure that you don't catch the cable or otherwise yank the thing off the screen.
In operation, the camera is very capable. The optics are clear and the refresh rate is very good. The C910 offers auto focus that is quick and precise. I didn't really notice it in operation, which is a good sign.
When in use, the camera has two led strips that light up blue. It's a nice touch and looks sleek.
The software is relatively painless in use. Drivers are available for PC and Mac support was added recently. As far as I can tell, Mac is just drivers + the Logitech Vid HD software at the moment, whereas PC comes with some extras like options to install Skype, Vid HD as well as Magix photo and video editing software.
Also, it doesn't appear at this stage that the Mac drivers come with the same filters and effects tools as the PC. Whether this is an additional download coming soon or whether this is a PC only feature, I don't know at this stage.
I have to say that the facial recognition and tracking of the camera on the PC is impressive. A simple calibration tool sets things up and then you're off. You can change yourself into an Avatar if you want and the facial tracking then transplants your mouth, eye and face movements onto another character. Just as impressive is the ability for the software to add 3D "features" to your face. Ever wanted to know what you'd look like with an arrow through your head? Well, now you can find out. As you move your head, the arrow moves in 3D space as well. Freaky voodoo fun!
In addition to these fun features, it's possible to use the PC software as a motion tracker. Set things up and you can have your camera record snippets whenever it notices something moving in its sight line. You get to define the sensitivity of this feature and what it should do when it detects motion (record, alert you etc).
The basic system requirements are not onerous. 1GHz, XP and up or OSX 10.5, 512Mb Ram. However, things step up a notch when it comes to full HD conferencing. You'll need a dual core processor, 2Gig Ram and at least a 1Meg upload connection. Most modern computers will meet the specs – but in the UK it's really only the lucky few who have the luxury of 1Meg upload.
You'll also need to download the latest version of Skype to make use of the HD capabilities of this camera fully (because who is really going to use Logitech's own Vid HD in reality?). However, even if you're not stretching this camera to its limits, the higher quality optics and hardware as compared to basic offerings mean that your video comes through bright, clear and updates quickly – well beyond other offerings I've seen in practice.
It copes well with light changes and differing light conditions and the stereo sound won't win any awards but is plenty capable for Skype. It picks up the sound well and since moving to this as my main Skype Mic, I've had only positive response. If you let Skype auto change the gain, it can even pick up sounds downstairs when I go and make a cup of tea!
It's biggest downfall is its price of course. Not because I think it's over priced for what it is, just because it's steep for a webcam. However, with it's full HD recording ability, single click upload to facebook/youtube and 10MP still capability, it's a whole lot more than just a webcam. I picked mine up for around £80. I've seen them since at around £70 and I've also seen a page on Amazon that looks as though it may get down to £60 in the next few months.